The Archaeology Awards
The annual Current Archaeology Awards celebrate the projects and publications that have made the pages of CA over the last 12 months, and the people judged to have made outstanding contributions to archaeology.
Winners 2017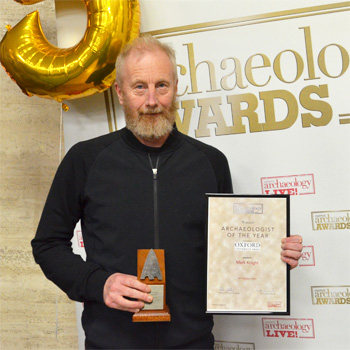 Mark Knight
Archaeologist of the Year
Mark Knight receives the 2017 award for Archaeologist of the Year.
Mark Knight directed the Must Farm excavations for the Cambridge Archaeological Unit. He specialises in prehistoric landscapes, as well as Neolithic and Bronze Age pottery. His interests include exploring later prehistoric contexts of inhabitation and mobility, and comprehending the lives of people in southern Britain between 3800-800 BC.
Sponsored by Oxford University Press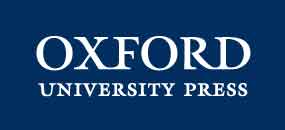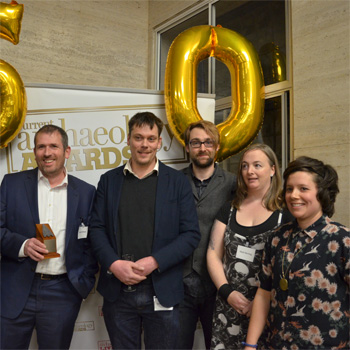 Must Farm
Rescue Project of the Year
Members of the Must Farm team, receiving their Rescue Project of the Year award for 2017.
The Must Farm inferno: exploring an intact Late Bronze Age settlement
(CA 312 and 319 – Cambridge Archaeological Unit / University of Cambridge).
Excavations of the burnt roundhouses at Must Farm have recovered quantities of well-preserved pottery, tools, textiles, and more, which paint a picture of daily life in Bronze Age Britain in greater detail than ever before.
Sponsored by Export & General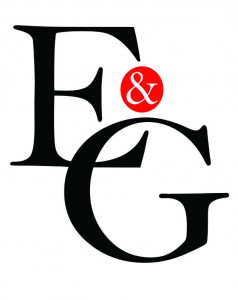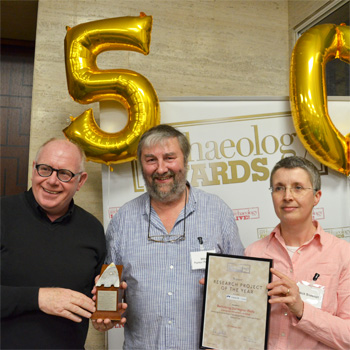 Durrington Walls
Research Project of the Year
L-R: Vince Gaffney, Mike Parker Pearson, and Nick Snashall collect the award for Research Project of the Year 2017.
Rethinking Durrington Walls: a long-lost monument revealed
(CA 320 – Stonehenge Riverside Project / Stonehenge Hidden Landscapes Project / National Trust)
Ongoing research at Durrington Walls has revealed a massive and previously unknown palisaded enclosure beneath the banks of the famous Neolithic henge. It is a discovery that is set to rewrite the site's history.
Sponsored by Oxbow Books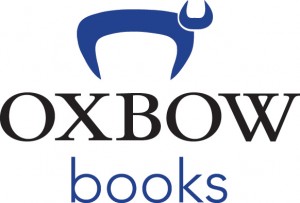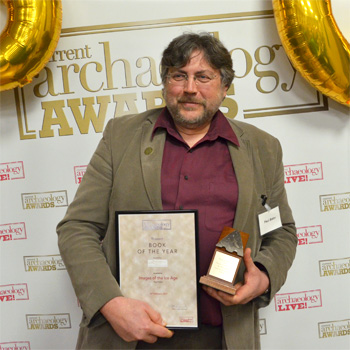 Paul Bahn
Book of the Year
Paul Bahn collects the award for Book of the Year 2017.
Images of the Ice Age (Paul Bahn – CA 314)
With detailed discussions of Ice Age images and explorations of how they might be interpreted, this beautiful book demonstrates how sophisticated our ancestors were.
Sponsored by Andante Travels